Christmas Give a Gift Appeal 2019
The 2019 Christmas Give a Gift Appeal delivered by Dorothy Parkes Centre and St Albans Community Association has proved to be a success yet again. This year, over 300 new & unwrapped gifts have been donated. The Appeal was launched in November and donations came in from generous members of the public, schools and businesses.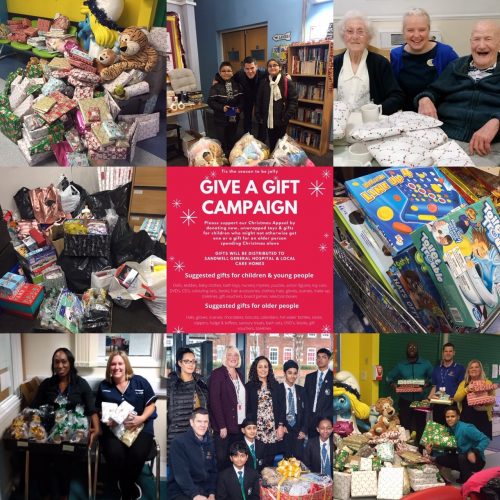 The Appeal was promoted by Sandwell Council and SCVO with donations coming in from local businesses and schools. The donors included Pure Gym West Birmingham and West Bromwich, Holly Lodge College of Science, Shireland Hall Primary Academy, Christchurch Primary School, Karen Duffy Beatz & Zumba Fitness, Bangladeshi Women's Association, Bangladeshi Islamic Centre, Smethwick Fire Station and ASDA Cape Hill who donated the many rolls of wrapping paper which were required.
Donations also came into both community centres via the general public and volunteers spent hours sorting and wrapping the gifts.
Robert Bruce, Chief Executive Officer at Dorothy Parkes Centre said:

"It really has been quite overwhelming, and the support and generosity of the local community has proven that even in these difficult times, there is still a spirit of goodwill out there and the people of Sandwell continue to strive to make a positive difference"
The beneficiaries of the Appeal are children on the Lyndon Ground Ward at Sandwell General Hospital and older people currently residing at local care homes including Ash Lodge, Oakley Gardens, Karam Court and Beechcroft Nursing Home.
Tonia Flannagan, Chief Executive Officer at St Albans Community Association said:

"We had a tremendous response to this Appeal last year and this year it has been even bigger and better. The gifts have now been distributed to those children who will spend Christmas in hospital and to older people who do not have any family. Thank you to the generosity of local people, businesses and schools for making this a success"